Introduction and usage of Mobizen Premium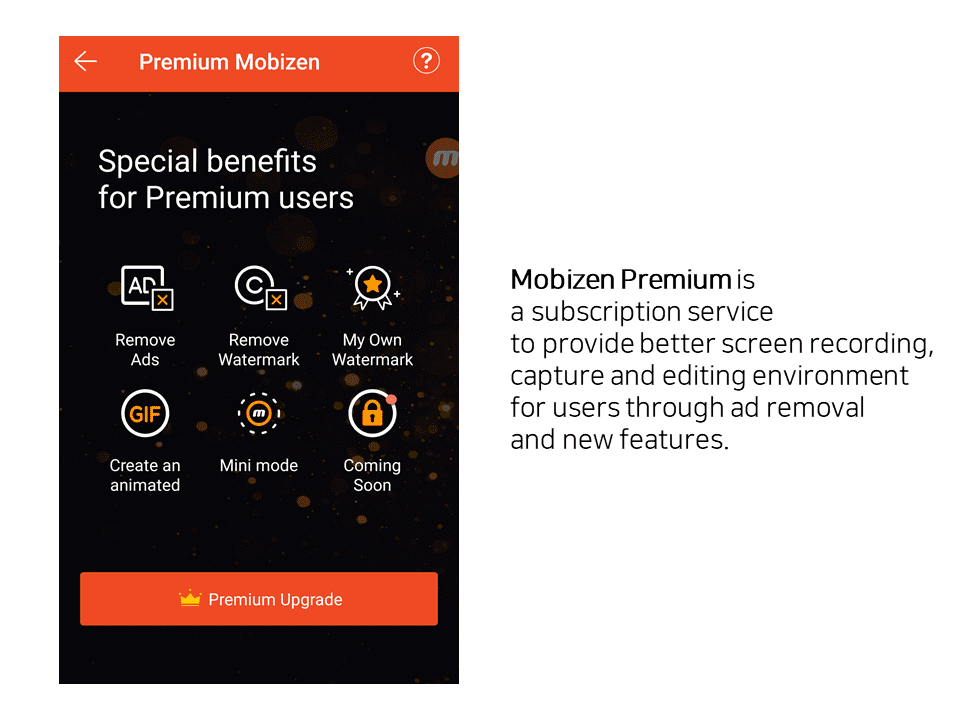 Mobizen Premium is a subscription service to provide better screen recording, capture and editing environment for users through ad removal and new features.
Features
Remove ads : use a cleaner Mobizen without the ads.

Remove watermark : record a cleaner video with Mobizen without the watermark.

Create GIF : make a short clip video as GIF.

Custom watermark : add your own watermark to the recordings.

Mini Mode: You can create more immersive videos with the ultra-small air circle (mini mode).

Drawing: Use the drawing to freely mark the place you want to emphasize.

New feature : new features are regularly added for premium users (E.g. subtitle, edit, etc.)
Using Mobizen Premium
Menu> Mobizen Premium> Available after premium upgrade (paid service)
Mobizen Premium Cancellation & Refund Policy
You can easily cancel your subscription and refund through the Google Play Store.
1. How to cancel
Cancel via app

Google Play Store app> Menu: Accounts> Subscriptions> Cancel by selecting the items

Cancelling via phone

Google Play

United States

Customer Center

Phone number: (855) 836-3987 (Only )

Support availability (local time): 24 hours a day, seven days a week

Google Play

Indonesia

Customer Center

Nomor telepon: (001)* 803 852 6437

*atau 007/008/009 (Tarif telepon lokal mungkin berlaku, tergantung operator) +62 21 2970 3955 (Dikenakan tarif telepon lokal)

Ketersediaan dukungan (waktu setempat): 09.00 - 18.00, tujuh hari seminggu

Google Play

India

Customer Center

फ़ोन नंबर: 18001088485

समर्थन घंटे: 9:00 पूर्वाह्न से 6:00 अपराह्न, एक सप्ताह के सात दिन
2. Refund Policy
Before 48 hours of payment::

Within 48 hours to 7 days after the payment::




The refund amount is calculated and processed in proportion to the remaining period excluding the used ones (based on the receipt date).