Sound recording settings (Android 6.0 or later)
On Mobizen stereo recorders, you can set the Internal sound option directly. Create high-quality video content by enabling the option for the game and video services that you want to record.

Internal sound (stereo recorder)
The stereo recorder (M2), developed with a patented technology, provides the ability to record the internal sound and the voice through the microphone. You can also record your voice along with the internal sound at the same time, allowing for more flexible conversations with subscribers from your YouTube channel.
How to use the internal sound (stereo recorder)
Mobizen settings > Sound Recording 'In Use' > Sound options> Enable Internal sound (stereo recorder)
Learn about the recording settings menu
1. Audio driver
The audio driver means recording the original internal sound output from the mobile device through the high-performance audio standard API. If you set the audio driver option to 'Auto', Mobizen will help you optimize the audio driver settings. However, depending on the user's smartphone/tablet OS, recording may not be available during automatic setup. In this case, please record by changing to direct audio driver option (AAudio, OpenSL ES) instead of automatic.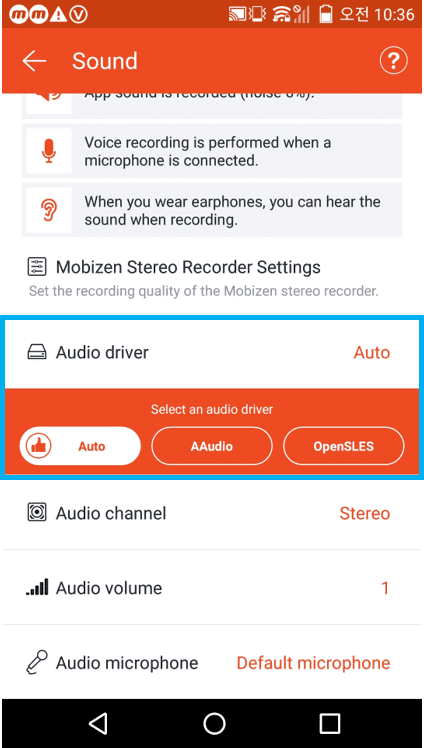 2. Audio channel
Audio channel settings allow you to record and enjoy rich audio in stereo sound.
˙ What is stereo?
Records richer audio by organizing the sound into 2 channels to produce different sounds on the left and right.
˙ What is mono?
Records the audio composed by one sound channel.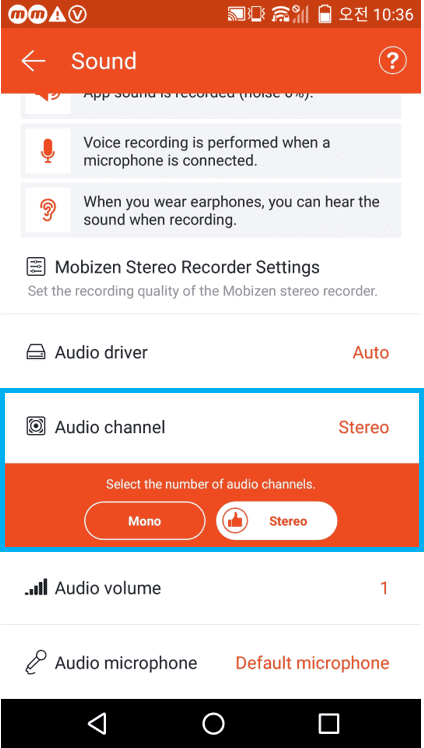 3. Audio volume
By adjusting the audio volume, you can record a clear smartphone's internal sound without losing audio quality. The sound volume may vary depending on the specifications of the smartphone/tablet itself or the game or video service to be recorded. If the recorded sound is low, turn the current volume higher, and if the volume of the recorded sound is high, lower it.
※ Caution: if volume is set too high, noise may occur.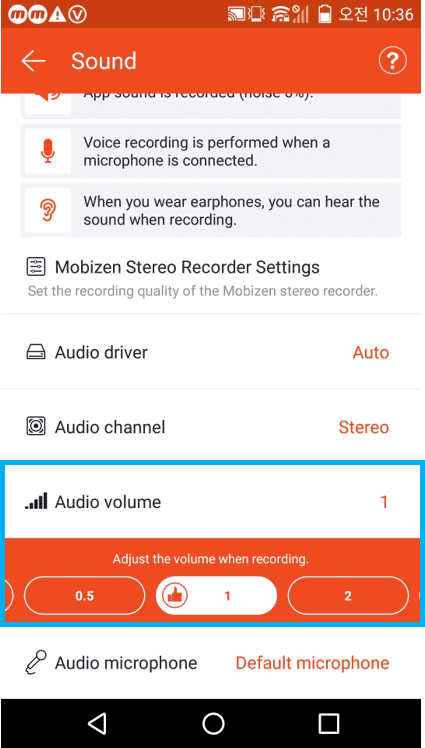 4. Audio microphone
Select the audio microphone type that offers the best performance for the game or video service you want to record. Depending on your smartphone/tablet specifications, the optimized microphone may differ.
※ Stereo recording may not be available when setting the default microphone on some smartphones/tablets. In this case, stereo recording will be available after setting the voice recognition microphone.